A Congenial Organization of Book Lovers, Collectors,
Readers, Buyers, Sellers, and Assorted Eccentrics
The men and women of the Florida Bibliophile Society are book lovers from all walks of life who have been meeting and talking about books since 1983.
We meet at 1:30 p.m. on the third Sunday of each month from September to May.  During the summer, we go on 'sabbatical' and visit our favorite book haunts far and wide for that special find.
Meetings alternate monthly between Pinellas and Hillsborough counties, usually at the Seminole Community Library in Seminole or the MacDonald-Kelce Library on the University of Tampa campus. Meeting locations and directions are published in the quarterly FBS newsletter, as well as here on this website.
We have guest speakers, book auctions, holiday parties, annual banquets, and more.  In short, we enjoy sharing our interests and activities.
Suggested annual dues are $50 per household; a family living at the same address become members for a single membership fee. Society members who do not reside in the Tampa Bay area, pay annual dues of $40. Note that these are suggested fees, quite low compared to most professional book clubs. Most of our members are happy to pay more ($75-to-$100 a year, still low, comparatively). As any organized society, we incur operating expenses.
For your dues, you form a kinship and new contacts with fellow book lovers, many respected collectors & scholars in their field. You also receive the annual FBS Newsletter (often 8 pp; illustrated; print & online editions). And your membership in the Florida Bibliophile Society automatically makes you a member of The Fellowship of American Bibliophilic Societies (FABS); this entitles you to its semi-annual publication, The FABS Newsletter, whose dedicated book club listings will keep you current on bibliophilic activities throughout the U.S.
Prospective members are invited to attend one of our meetings and decide for themselves. Most of our members have been with us since the 1980s.
Addendum — The archives of the FBS (1982-; eight hefty boxes, to date, of essential records, documents, FBS publications, correspondence) are presently being organized by FBS members Carl Mario Nudi, Sue Tihansky, and Shannon Schane. The official depository is the Tampa Book Arts Studio. Hearty thanks to FBS founder, Lee Harrer, for initiating this important project.
We are a lively community which honors and promotes the book as physical artifact, as historical touchstone, and as the principal agent of information exchange over the centuries. We engage with manuscript books and printed text, from Books of Hours to early broadsheets, newspapers, and deluxe editions. We also revere the craftsmanship of the Book Arts—special bindings, frontispiece portraits, title-page vignettes & printers' marks, headpieces & tailpieces, maps, illustrations. Links of ownership (book provenance) and the value of association copies always seize our attention. Each of us, in our fashion, makes a contribution to the Society's serious goals.
— Contributed by Maureen E. Mulvihill, FBS Vice President, 2012-May 2015
Would you like to become a Florida Bibliophile?
You can download and print the form below (click on the image to download the form), complete it,
and mail it with your check, or you can bring it with you to our next meeting.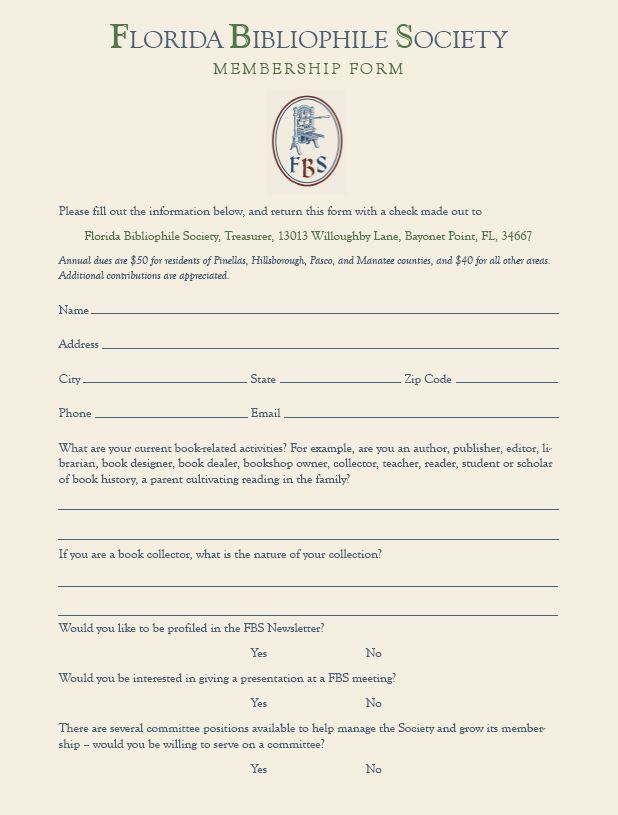 The Master: Dante Alighieri (Florence; 1265-1321)
By Luca Signorelli (Cortona; 1450-1523)
Fresco, c1500. Orvieto Cathedral, Italy
Perhaps an image of comparative reading: Dante & Virgil