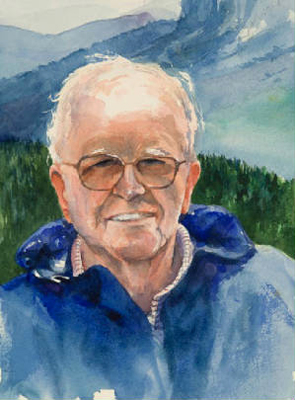 JACK WALSH
1925-2014
John Patrick Walsh died peacefully on April 3, 2014. John was born to John Merth and Catherine Marie Walsh on March 17, 1925. He was raised in Antigo, Wisc., and graduated from the University of Wisconsin with an M.S. in Geology. His search for oil took him to Bogota, Colombia, Tripoli, Libya and Sumatra, Indonesia. He retired from Ashland Oil and lived in Edgerton, Wisc., before he moved to the Tampa area. John was blessed with many lifelong friends and will be truly missed by his only surviving sister, Rosemarie Walsh; his adopted sister, Hazel L Hogan; and his wonderful friend, Sue Tihansky and her family. He is also survived by his nieces and nephews of Washington state who loved their Uncle John. He was predeceased by his two older sisters, Dr. Margaret Fenn and Anastasia Eickhoff of Seattle, Wash. He was a U.S. Navy Veteran of World War II. Inurnment with military honors, was held April 11, 2014, at the Florida National Cemetery, Bushnell, Fla.
From the Orlando Sentinel, April 8, 2014
We Shall Miss His Irish Smile
Watercolor Portrait by Sue Tihansky
________________________________________________________________________________________________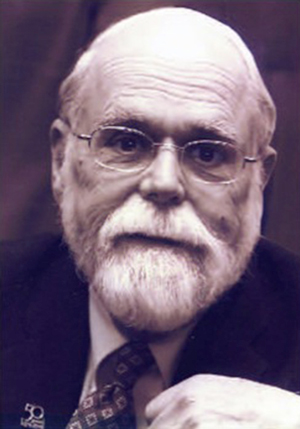 Dr. William Howard Scheuerle
1930-2014
Dr. Scheuerle received his B.A from Muskingum College, Ohio in 1952, his M.A. from the University of Pennsylvania in 1954 and his Ph.D. in Victorian Literature from Syracuse University in 1964. He taught at Westminster College, Pennsylvania 1956-1958. In 1964 he was hired as an assistant professor of English at the University of South Florida. He rose in rank to professor then professor emeritus, retiring from teaching in 2003.
During his 46 year career at USF, he served as University Marshall, Associate Vice President of Academic Affairs, Acting Vice President of Academic Affairs, Acting Director of the Graduate School, and Dean of Undergraduate Studies. Upon retirement as dean in 1994, he was honored with the title Dean Emeritus. On various leaves from USF, he served as Coordinator of Humanities and Fine Arts for the State University System (Board of Regents) (1969-1971), as Interim District Vice President for Academic Affairs for Hillsborough Community College (1994-1995), and taught in the Florida State University London program in the Fall semester 2002. From his first retirement from USF in May 2003, he was asked to return to become the founding director of the Humanities Institute, College of Arts and Sciences, which he directed for six years, retiring a second time from USF in August 2009.
Nationally, Dr. Scheuerle served as president and board member of the Nineteenth Century Studies Association and of the Research Society of Victorian Periodicals, and board member of the Victorian Interdisciplinary Studies of the Western United States. For eight years, he was editor of the international journal Victorian Periodicals Review. On March 9, 2007, he was honored by the Nineteenth Century Studies Association by being awarded the 2007 Presidential Award for "sustained service to the association and significant contributions to the nineteenth-century studies," an award that cited his scholarship in Victorian studies and his active participation in national academic societies.
Locally, he was very active with the Library System of Hillsborough County, serving on the board of the Council of the Friends of the Tampa/Hillsborough County Library and on the Board of the County Commissioners' appointed Citizen's Library Advisory Board, where he served terms as chair and secretary, and he was a member of the Friends of the Upper Tampa Bay Library Friends and the John F. Germany Library Friends. In addition, he was previously chair and board member of the Temple Terrace Library Board, and served as a board member of SERVE. He was a member and past president of the Florida Bibliophile Society. Recently, he was appointed to the Community Advisory Board of WEDU. He also was a member of the St. Andrews Society of Tampa Bay. He served for many years on the Latino Advisory Committee to the President of the University of South Florida. In September 2010, he received from USF the "Hispanic Heritage Community Award for Outstanding Community Service for 2009-2010".
Dr. Scheuerle is survived by his wife, Dr. Jane Frances Scheuerle (nee Walker), his daughter Angela and her husband Alan of Dallas, Texas, and his son, Ramsey and his wife Dawn, and their children Jen-Marie, Paul, Serena, Lily Anne, and Ethan of Valrico, Florida.
In lieu of flowers, donations are requested to The Humanities Institute at USF via the USF foundation, ALC100, USF, Flower Avenue, Tampa FL 33620. A memorial service will be held at the University of South Florida sometime in March.
Obituary provided by Angela Scheuerle
Originally posted 2.18.14
________________________________________________________________________________________________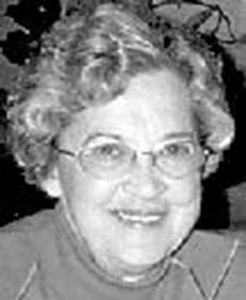 REBA HARRER
1923-2012
CLEARWATER, Fla. — Longtime Florida Bibliophile Society member Reba Harrer passed away quietly on Oct. 4, 2012 at Morton Plant Hospital, Clearwater. She was born Sept. 24, 1932 in Onego WV, to her parents Forrest Hartman and Dessie Vance. Reba (aka Rita) is survived by her husband, Lee Harrer; daughter, Lisa Anne Vaughn and husband, Craig; along with dearly loved grandson, Brandon Lee and granddaughter, Delaney Caroline. She is also survived by sister, Dorothy Hartman Champ of Baltimore and brother, Harold (Blonda) Hartman of Seneca Rocks WV, plus many nieces, nephews and other relatives. Lee and Reba were married Dec. 1, 1956 at Fort Holabird in Baltimore. Reba was a faithful and loving wife who endured moves within the U.S. and to Germany and Brazil along with separations due to Lee's military service. Reba made a home in Pinellas County in 1972. She helped open the first Clearwater Burdine's store in 1975 and went to the Countryside store until her retirement in 1995, working in Fine Jewelry and the Gifts/Bridal department. She earned Store Employee of the Year honors and was called back to part-time work many times after her retirement. She made many good and enduring friends while working at Burdine's/Macy's. Reba was a member, since 1972, of the First Evangelical Lutheran Church, 1644 Nursery Road, Clearwater, and was a long time member of the Altar Guild. Over the years, she participated in a number of Elderhostels, a tour of England, Scotland and Ireland, as well as cruises to Alaska, Hawaii, Portugal, through the Panama Canal and around the Caribbean. Reba greatly enjoyed playing bridge with a close circle of friends for many years. In lieu of flowers, please consider a donation to your favorite charity in Reba's honor. A Memorial Service will be held at First Evangelical Lutheran Church, Thursday, Oct. 18, 2 pm, followed by Interment at Sylvan Abbey Cemetery, Clearwater.
From the Tampa Bay Times, October 13, 2012
Originally posted 12.5.12 

Old School Press Ltd, England & Wales
(2002 – ; Martyn & Angela Ould; Logo Design: John Watts)